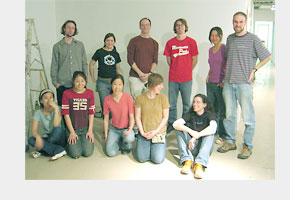 In communications, a code is a rule for converting a piece of information into another form or representation, not necessarily of the same type. In communications and information processing, encoding is the process by which a source performs this conversion of information into data, which is then sent to a receiver, such as a data processing system.
Wikipedia
"Code is the only language that is executable.",
Lev Manovich
ABOUT UNEXPECTED TOKEN
In January of 2006, twelve students and two instructors at the School of the Art Institute of Chicago began a fourteen-week investigation of the practice of programming for art. According to Whitney curator Christiane Paul, code is the "paint and canvas" of the digital artist. Yet code transcends traditional mediums because it enables artists to write their own tools as artist Woo Young Chong has done in her piece, 50 brushes for the night sky .
The Unexpected Token exhibition presents a glimpse of the process of learning how to sketch in code. Several artists resisted the utopian possibilities of clean display and rapid calculation offered by the computer. Eunhye Chung transposes her daytime habit of obsessively doodling circular forms by avoiding loop syntax and hand-coding each digital ellipse. Joshua Shanholtz builds an analog random number machine to avoid the computer's flawed process of generating random number seeds. Matthew Nelson creates an interactive system in which visitors to the gallery contribute to a ever-expanding wall collage of machine-generated scribbles.
Code can be a form of creative writing. Seth Hunter and Nancy Kim visualize and animate text with code. Si Nae Kim reprograms the text of a social security number in full color. Two artists here explore abstracted narrative with code: Andrew Hicks recreates an abstracted narrative of aging while Emily Kuehn invites the viewer to sonically engage with a virtual hysteric. Both Philip Granke and Andie Giafaglione explore code as a method of making simple text-based rules incredibly complex when iterated over time or remixed with subtle changes.
This exhibition provides a glimpse into each of our processes over the course of the semester. Please explore, participate and enjoy the work presented here.