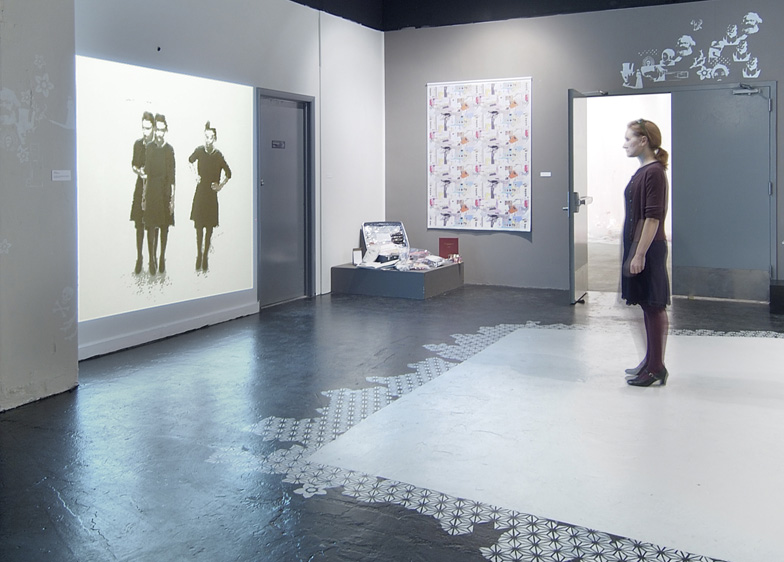 Overview
Still Watching is a selectively responsive video canvas. Motionless viewers leave an impression on the canvas in proportion to the duration of their viewing. The resulting canvas is a collective history of reflective moments. Please see the videos and images below for examples of how it works and the results from the gallery.


Video: development demo



Video: at Haven Middle School


Click on the thumbnails to view canvases from the G2 Gallery "All that is Solid Melts into Air" show.
Use in an Educational Context-- sample proposal in PDF format
Interested in using the Responsive Video Canvas in your school or Gallery? I am currently proposing the use of this interface in schools in the Chicago area and am open to other ideas for its extended use.

Themes and Intent
1) Stillness & Motion- through its tracking algorithms, it draws moments when the viewer is still. The longer a person is still the more their image is emphasized in the overall history of viewings displayed on the canvas.
2) Selectively Responsive Canvas- From an interactive standpoint, this piece would be better described as "selectively responsive" - thus avoiding the toy-like and unreflective nature of many interactive works.
3) Overlapping Bodies - One ontological view of being is that we are not separate from each other - rather we are part of an ongoing event where we influence and change each other at every moment. This overlap is reflected both by the process of the image trickling in, and by its final result.